Professional Hand Painted Of Your Ordinary Photo To High End Oil Painting Portrait That Will Be Valued & Cherished For Generations.
Pet Oil Painting Portrait
Perfect gifts for beloved ones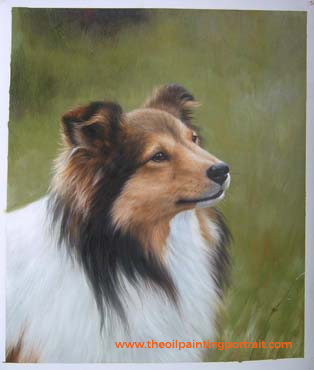 Pet oil painting portraits can be the ideal gift for someone like your spouse, or girlfriend or boyfriend who loves pets. If the birthday of a special friend is coming up and you have run out of ideas for birthday presents, you can order a pet oil painting portrait. Many people are very fond of their pets, and this is the reason why nothing could be more appropriate than thinking of a gift in the form of a dog portrait, for instance. And not only is it appropriate, but it is also unique, because it's not everyday that you get a handmade pet oil painting portrait as a gift. Pet oil painting portraits may also be the perfect gift for people you don't know very well. When you do not know what type of present would be appropriate, but you do know they enjoy their pet, you can opt for pet oil painting portraits.
Since pet oil painting portraits from photos can produce a wonderful centerpiece for you home you can give yourself an awesome gift by ordering a pet portrait. If you think that photos of your pet are already too common, you are right. Pet portraits are special because they are rare. Everyone has taken photos of their pets, but a portrait? Pet oil painting portrait can be made in pastel, oil, charcoal, etc. and they are entirely handmade, and not computer generated or printed. Experience artists put considerable effort into capturing the image of your pet in a lovely surrounding, so as to show its personality as well as physical traits.

Pets cannot live with us forever, we are surely aware of this fact, so why not try to keep your beloved four-legged companion around forever by having its portrait drawn up? It will be a memorial dog portrait that will tell everyone how much that pet meant to you, and you will be able to comfort yourself knowing that you have shown your appreciation in a unique way. Also, pet oil painting portraits reveal the beauty and character of each pet.

Artists use photographs as a model for the pet portraits they draw. It is virtually impossible to get a pet to stand still for hours, while the portrait is being painted, which is why you have to send a photo. If you already have a photograph that you think is appropriate to be turned into a portrait, you can upload it on our specialized website, and wait for the pet oil painting portrait to be delivered.
While it might be an overwhelming task to select the perfect image for a pet oil painting portrait, whoever said you had to choose just one pet oil painting portrait? Pet oil painting portraits can present a variety of black and white oil paintings of your Pekinese to an explosion of color that highlights her wrestling with the crisp leaves of a cool autumn day. The possibilities for a pet oil painting portrait are endless as you choose from varying canvas sizes and styles for displaying your companion in the best light.
Get ready for a good shot!
However, if you have to select which photograph that you are going to upload, here are some tips on how to do this, so you are pleased with the final product.
First of all, you should try to photograph your pet in natural light, but not direct sunlight. Second of all, pets react differently to flashes, and cats, of all pets are the most obstinate when it comes to the flash. Not only can the flash scare your pet, but it can also make its eyes red. Furthermore, the flash may be too bright for your pet's eyes, so you should avoid taking a photo of your dog looking straight into the camera, or better yet, you should try not to use a flash at all.
Just like humans, pets can be very moody, so, if you want a good photo for your pet oil painting portraits, you should avoid taking it when they have just woken up. Actually, there is no perfect time of day, which means that you have to have your camera ready at all times,
Don't forget that your pet should be the focus of the photograph, so that the artist painting your dog portrait can have a clear image of what he or she is about to draw. Try to avoid a busy background, and remember that too many details may make the picture, and therefore the portrait, too distracting to the eye.
If you want to capture a very natural image of your pet, you should try taking the picture in a location where your pet is most comfortable, such as lying in an armchair or on the floor. In a similar way, if you want to have a portrait of a playful cat or dog, you should try asking someone to play with it, and you can take the photo as they do so.
While photos curl at the ends, collect dust on their glass frames, and seem average in the scheme of artistic expression, a pet oil painting portrait can accurately capture the soft hair strands falling over the eyes of your sheepdog and the sparkle in the eye of your prized rabbit. The pet oil painting portrait brings your pride and joy to life as fur seems touchable and their presence is felt with increased intensity.
There is no denying it - dogs, cats, and other feathered, four-legged, furry, or slithery friends play an important role in the day-to-day survival of an ever-changing world. When it comes to peering into the comforting eyes of Fido or cuddling up with the memory of your favorite cat, Jinx, a fine art oil painting can immortalize the companion who stood by you when times were tough and life was good. Pet oil painting portraits are so highly recommended for owners who wish to preserve one or more of their favorite memories of their constant confidant and in many cases, best friend. Once again, pet portraits are a wonderful gift, both for yourself and for someone dear to you, and when they look just as you want them to, they are all the more precious.
Many may think a pet oil painting portrait will cost an arm and a leg. We assure you, we offer this sentimental product at affordable prices. And working from photographs, portraits can be ordered from wherever you are located. http://theoilpaintingportrait.com/
http://www.articlesbase.com/business-articles/pet-portraits-from-welltaken-photographs-180359.html
http://www.petphotoartist.com/traditional_dog_portrait_from_photo_1.html
We accept





Subscribe for special deals & news
* We NEVER spam or share with third parties!